Tired of your air conditioning unit acting up or breaking down? The average lifespan of an air conditioner in Virginia is 12-15 years. Having an outdated or unreliable air conditioning unit can be a really uncomfortable, unhealthy and costly situation. If you're in the market for a new air conditioning unit, you're probably doing a lot of research into the type of equipment that's best for your needs, as well as the brands that are highly rated. Did you know that it's just as important to do your due diligence in choosing the right installer?
The benefits of professional air conditioning installation:

1) Reduced Service Costs & Extended Equipment Life
---
Only an experienced & qualified HVAC technician can properly understand your air conditioning unit manufacturer's specifications and the space requirements of your home. Proper air conditioning installation will allow your air conditioning unit to run more reliably with less wear and tear on the parts. You'll experience fewer breakdowns and could even double the lifespan of your air conditioning unit!

2) Comfort & Safety
---

Air conditioning installation is not one-size-fits-all. The design and size of your duct-work and ventilation, the settings on your unit, the drainage etc. all need to be accurate in order for your unit to function effectively and efficiently. Improper installation could result in fluctuating temperatures, humidity problems and even carbon monoxide leaks!

3) Reduced Noise
---

If your ventilation is improperly connected to the air conditioning unit, the equipment will produce a lot more noise when in use. Relying on an experienced HVAC technician will help avoid this problem.
WHY CONSIDER AAA HVAC SERVICES?




NATE Certified
Service Technicians

SAME DAY SERVICE AVAILABLE
---

*Limitations apply. Please contact us for details.
AAA HVAC INSTALLS THE FOLLOWING
AIR CONDITIONER BRANDS 0% Financing Available**
**24 month financing available, payments as low as $80/month
We are grateful for the recognition
We understand that finding a reliable & trustworthy Heating & Cooling Specialist can be a daunting task.
Rest assured, you are in the right place. Our reviews & awards below speak for themselves!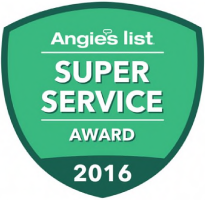 Top rated Angie's list service provider 2014, 2015, 2016